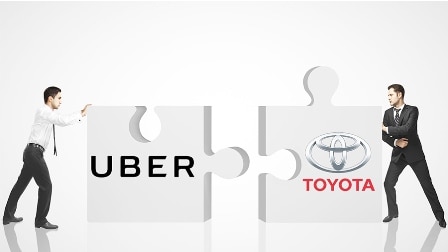 Additional savings for Uber Drivers!
Toyota of Plano is offering a Toyota Uber Driver Incentive Program for all registered Uber drivers in the Dallas/Fort Worth Area. Customers that choose to take advantage of this unique program will receive additional savings. Our extensive stock of Toyota Hybrid vehicles will be beneficial to all present and future Uber drivers - they're friendlier to the environment, easier on the wallet and will provide a quality ride for you and your passengers for years!
What vehicles are eligible for the Toyota Uber Driver Incentive?
Toyota has been the leader in hybrid vehicle technology, and has one of the most diverse lineups of hybrid vehicles on the market today. Fuel costs are arguably the biggest cost to Uber drivers, so lowering fuel expenses is top priority - our lineup of Toyota hybrid vehicles available at Toyota of Plano will accomplish just that. And no need to worry about driving a boring vehicle that looks like all the rest - our new, unused and unlicensed Toyota Lineup is as diverse as Uber drivers themselves. If more size and capability is just as important as cutting fuel costs, Toyota of Plano also has Toyota Sienna models available through this program!
Eligible vehicles include:
Just announced, also available on Corolla, Corolla Hatchback and Yaris!
To be eligible for the program, you must have a valid Uber driver identification.
With the purchase or lease of a new Toyota you will also benefit from the
ToyotaCare
no cost maintenance program. This no cost maintenance and roadside assistance is for 2 years or 25,000 miles, whichever comes first.
To get started, just submit your inquiry through the "Make an Inquiry" form at the top right of this page, or call 888-255-3154 and our knowledgeable staff will be glad to go over the program details with you. We are located at
6888 Highway 121
in Plano, Texas. Hurry in - this program ends soon!