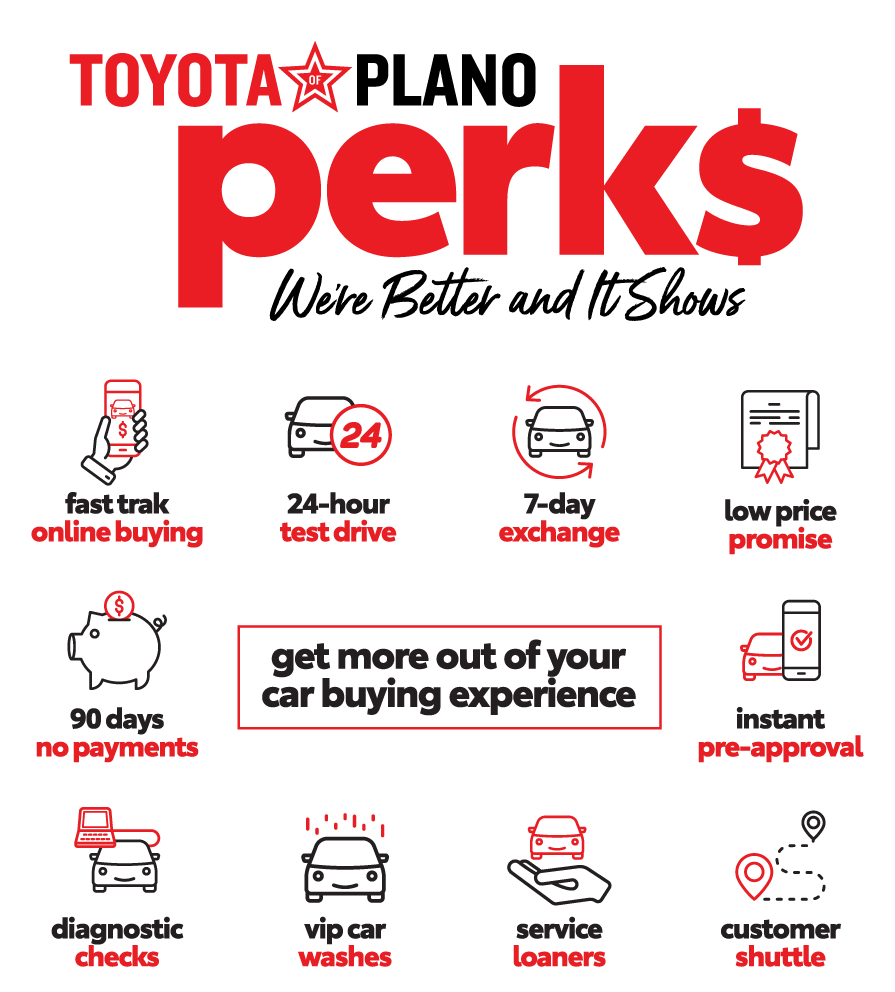 Toyota of Plano wants you to get more out of your car buying experience in the Dallas, Fort Worth, Carrollton, McKinney and Richardson Texas area. That's why we're proud of our Toyota Plano Perks. These are different ways that Toyota of Plano use to make our customers in the Dallas/Fort Worth area happy and make shopping with us that much easier.
Here are some of the perks you can expect from Toyota of Plano:
• With Fast Trak online buying, customers can simplify and streamline the car-buying experience. You simply pick your new or pre-owned vehicle, pick your trade value, pick your financing. If you need help, our experts are here to always help you. You can pick up your vehicle at our dealership whenever it's convenient for you. We're making buying a car as easy as buying a phone!
• Toyota of Plano wants to make absolutely sure we get you into the right vehicle. We're now offering 24-hour test drives and a 7-day exchange. There is no such thing as buyer's remorse at Toyota of Plano! If you're not satisfied, then you can bring your vehicle back and find the one that is right for you.
• Our Low Price Promise! We want to be as transparent as we can. The price you see online is the price you'll pay.
• Toyota of Plano is offering 90 days No Payments to qualified buyers. Purchase a vehicle from us, and you have 90 days before you have to start making payments.
• You can get instant pre-approval online on our website, right from the comfort of your own home or office.
• Diagnostic checks, such as a check engine light, will be checked out and analyzed by our trained staff. We will then advise you the best course of action. 
• Your car will always look great with our VIP car washes. Every time you come in for service, you get a car wash too!
• We understand the importance of having transportation and what a disruption being without a vehicle can be. For this reason, Service Loaners are provided when your car is in the shop. Some restrictions and availability apply. Ask your service advisor for more details.
• We also provide a customer shuttle! Ask your service advisor for the schedule and available locations.