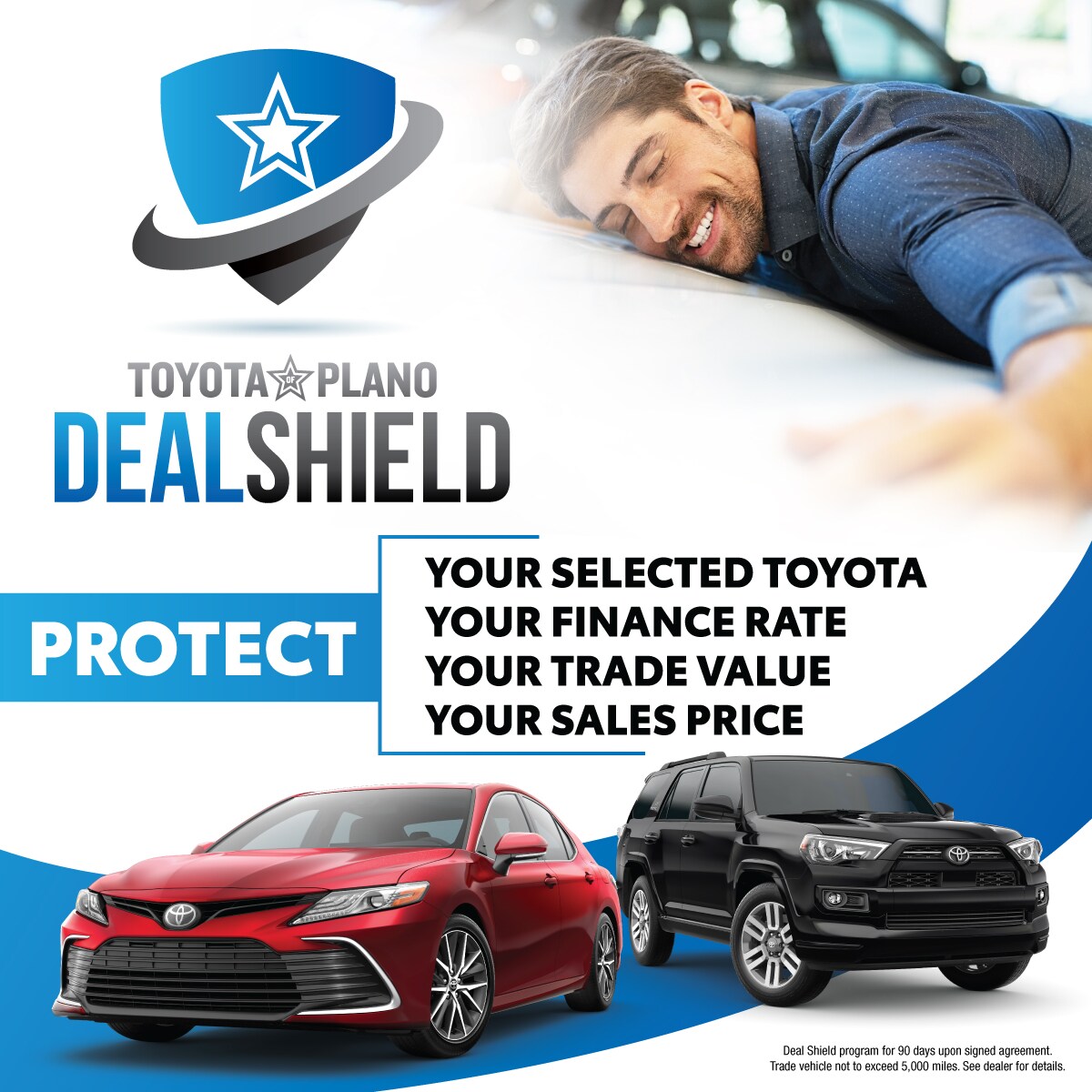 If you've heard someone mention that "it's never been a better time to sell your car", then you're in on the automotive industry's worst kept secret. Trade-ins are more valuable than ever before. While many customers are ready to get a great deal on their trade-in and upgrade into a new vehicle - some are concerned that waiting on a new vehicle to arrive will cause them to miss out on their best trade-in value. The Toyota of Plano team recognized this issue, so we set out to find a solution for our customers. Toyota of Plano's Deal Shield is that solution. It began as a program to help customers protect the peak value of their trade-in, while they waited for their upgrade to arrive, but since the program's development, our Toyota of Plano team has further expanded this initiative.
We are excited to officially announce Toyota of Plano's Deal Shield program, a solution to car buying in the current automotive market. Deal Shield, so aptly named, is just that - a program that gives our customers a new way to protect their finance rate, trade value, and sales price, while they wait for their new Toyota to arrive. That's right, you can now reserve your new Toyota and with it reserve a great finance rate, trade value, and sales price for up to 90 days. Just when you think it can't get any better, this program can also be combined with any of our other impressive benefits, like our Plano Perks program. 
Our Toyota of Plano team is constantly working to improve and expand on our customers' buying experience. Our focus is always on finding ways to improve customer retention and satisfaction. Implementing problems like Deal Shield is one way we are able to improve our customers' experience at Toyota of Plano. Find out why more Texas Buyers choose Toyota of Plano. Visit Toyota of Plano today, and ask about our Deal Shield program!